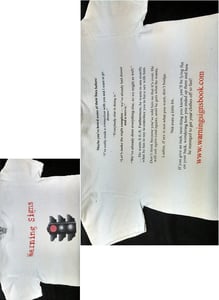 $

15.00
Not much of a reader? No problem! Purchase a Warning Signs T-shirt and still spread the message about dating and relationships to those you meet.
This screen printed t-shirt is from the Red Light section of the book, and features a red traffic light on the front and a portion of a Red Light chapter on the back, along with the web site.
This is the first of three t-shirts, all of which will follow one of the lights in Warning Signs, red, yellow or green.
Sizes: S, M, L, XL (true to size)
*10% of all annual proceeds will support survivors of domestic violence.
WE ARE EXPERIENCING TECHNICAL DIFFICULTIES AT THIS TIME. TO PLACE YOUR ORDER, GO TO http://ambergrispress.bigcartel.com/. THANK YOU, AND WE APOLOGIZE FOR THE INCONVENIENCE.